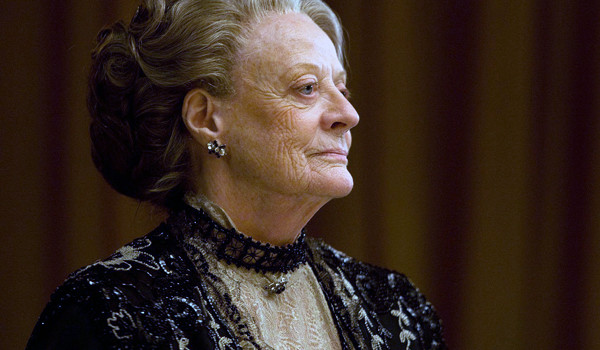 Some may know her as the Dowager Countess Violet Crawley from Downton Abbey, but Dame Maggie Smith has a long and varied career on stage and screen.
Let's look at a few of the historical costume movie and TV roles that made her iconic long before she got us wondering what a weekend was.
Othello (1965) – Desdemona
This was Maggie's breakout film role against Laurence Olivier as Othello. The ingenue Smith obviously made as much of an impact in the movies as she was already making on stage.
Maggie Smith had a small role in this parodic take on the first World War, but look at how absolutely lovely she is in her song-and-dance getup. She's a stunner.
The Millionairess (1972) – Epifania
I know almost nothing about this BBC TV 'play of the month,' except it's written by George Bernard Shaw and a DVD is available on Amazon. Not even sure if it's supposed to be historically set; maybe 1940s? Though the blue eye shadow seems rather 1970s. Really, I just had to include this picture because Maggie Smith looks so damn good.
Kendra has reviewed this murder-mystery already, but let's just admire this cross-dressy turn Maggie Smith delivers. We all wish we could look this smart. (We're gonna skip the other Poiret mystery, 1982's Evil Under the Sun, where they made Smith up to look like Lucille Ball.)
Clash of the Titans (1981) – Thetis
Always a goddess, in this kinda schlocky epic, Maggie Smith plays the queen of the sea. She gets into a bitch-fight with Andromeda and wants her sacrificed to the Kraken. As do we all.
As Helena Bonham Carter's chaperon, here begins Smith's transformation into the perfectly snarky, never satisfied, holier-than-thou, British upper-crust dame in period drama. She could always put on a regal air, but A Room With a View solidified this character as Maggie Smith's sweet spot in historical costume films and TV. It's a typecasting she doesn't seem to mind, and she's put a different spin on it with each outing.
Richard III (1995) – Duchess of York
A small yet exquisite role in this 1930s Shakespeare adaption — Maggie Smith is the mother to Richard (played by Ian McKellen). Her final scene cursing him out is fantastically biting.
Harry Potter series (2001-2011) – Professor Minerva McGonagall
It's not historical, but we all know and love Maggie Smith as Professor McGonagall, so I couldn't help but include this role! By turns severe and sentimental, she's the teacher you'd have the fondest memories of as an adult.
Gosford Park (2001) – Constance Trentham
This movie, and Maggie Smith's role in it, are a direct precursor to Downton Abbey, despite being set in the '30s. Written by Julian Fellows, it has the same snappy patter and elaborate, giant cast, plus everyone looks gorgeous.
Really, this is just a fabulous opportunity to see Maggie Smith in lovely 18th-century costume! She's an upper-crust mother of one of Jane Austen's suitors, rockin' the old-school look.
Downton Abbey (2010-2015) – Violet Crawley, Dowager Countess of Grantham
Let's face it, this is why we all keep tuning in. When you're sick to death of Lady Mary's BS or all the stupid crap heaped on Lady Edith or the never-ending trauma of the Bates' life, we're bound to get some supremely clever one-liners from the Dowager Countess. Thank you, Maggie Smith, for bringing the old bat to life!
These are just a few — what's your favorite Maggie Smith historical costume movie or TV role?