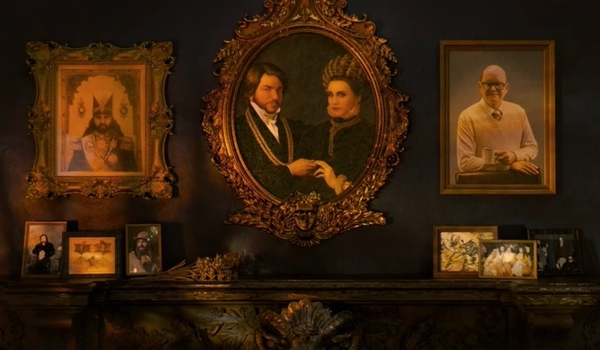 I've been doing a re-watch of What We Do in the Shadows (2019-) while waiting for the next season to eventually drop (I need my ridiculous vampire fix!). The show is just top to bottom perfect in pretty much every way, but the first eye-catching thing you see is the opening credits showing the various characters over the centuries set to the fabulous song "You're Dead" by Norma Tanega.
The brief intro cycles quickly through portraits of the main characters in various styles of historical costume, and it's always intrigued the art historian in me, because many of these portraits are actually very good copies of historical paintings with the faces of the actors superimposed on them. We've discussed crappy historical portraits in film before, and let me just say, these are entirely the opposite. Hats off to John Likens and the creative team at Method Studios who are the brains behind these masterpieces. The designers managed to emulate the historical era of each painting while the actors' features are still recognizable. It's not just slapping a picture over the top of an existing portrait and photoshopping it to look kinda like a painting. This took real skill and attention to historical portrait methods took a lot of care to get the portraits to look right.
My favorite, of course, is this one of Nadja (played by Natasia Demetriou), based on Henri Regnault's 1870 painting, Salome.
Other notable references:
If you're interested in learning more about all of the portraits and paintings referenced in the opening credits of What We Do in the Shadows, check out this highly informative post on Imgur by user Cinematry. They go way deeper into the rabbit hole of this 30-second TV show intro than I could!
Do you have a favorite historical portrait from What We Do in the Shadows? Share it with us in the comments!