It was the great romance and scandal of the early 20th century — King Edward VIII of Great Britain abdicated his crown after a mere 327 days so he could marry the twice-divorced American Wallis Simpson. "I have found it impossible to carry the heavy burden of responsibility and to discharge my duties as King as I would wish to do without the help and support of the woman I love," he declared on December 10, 1936.
Sure, he was racist and Nazi-sympathizer and she was domineering and a spendthrift. And the two of them became 'international society's most notorious parasites for a generation.' But as characters in a historical drama, they cut fine figures, showing up time and again at the heart of their own romance or to spice up  someone else's story. Often, terrible people make for juicy stories, so let's look at some of the frock flicks about this couple.
Note: I'm only including TV shows and films where both Wallis and Edward both appear. I skipped a few that have one or the other as a character because that's not as interesting!
Faye Dunaway and Richard Chamberlain in The Woman I Love (1972)
This soapy, full-on romantic American TV version seemed to cause some scandal in Britain by bringing up the earlier generation's royal scandal. So much so that hardly any promo images, contemporary reviews, or DVD of it can be easily found today! Just a poor quality video on YouTube. Still, Chamberlain is a dashing portrait of the King and Dunaway is elegant as Simpson.
Cynthia Harris and Edward Fox in Edward and Mrs. Simpson (1978)
This seven-part miniseries was the first UK drama to dive deep into the story, and it won multiple BAFTA's (including for Best Costume Design) and an Emmy (for Outstanding Limited Series). It goes chronologically and very methodically through the the then-Prince of Wales' randy life in the '20s, eventually meeting Mrs. Simpson, and on to the abdication.
Jane Seymour and Anthony Andrews in The Woman He Loved (1988)
Another American TV movie, and a very pretty one at that. High production values and gorgeous costumes, though admittedly both Seymour and Andrews look too handsome to be their characters. Maybe it's just that the YouTube video quality was better than the '72 flick, but I enjoyed it more even though it's otherwise the same.
Amber Sealey and Charles Edwards in Bertie and Elizabeth (2002)
Not really Wallis and Edward's story, but Bertie and Elizabeth's lives wouldn't get exciting if Edward didn't abdicate, so there's that. A more complete look at George VI's ascension than The King's Speech.
Joely Richardson and Stephen Campbell Moore in Wallis & Edward (2005)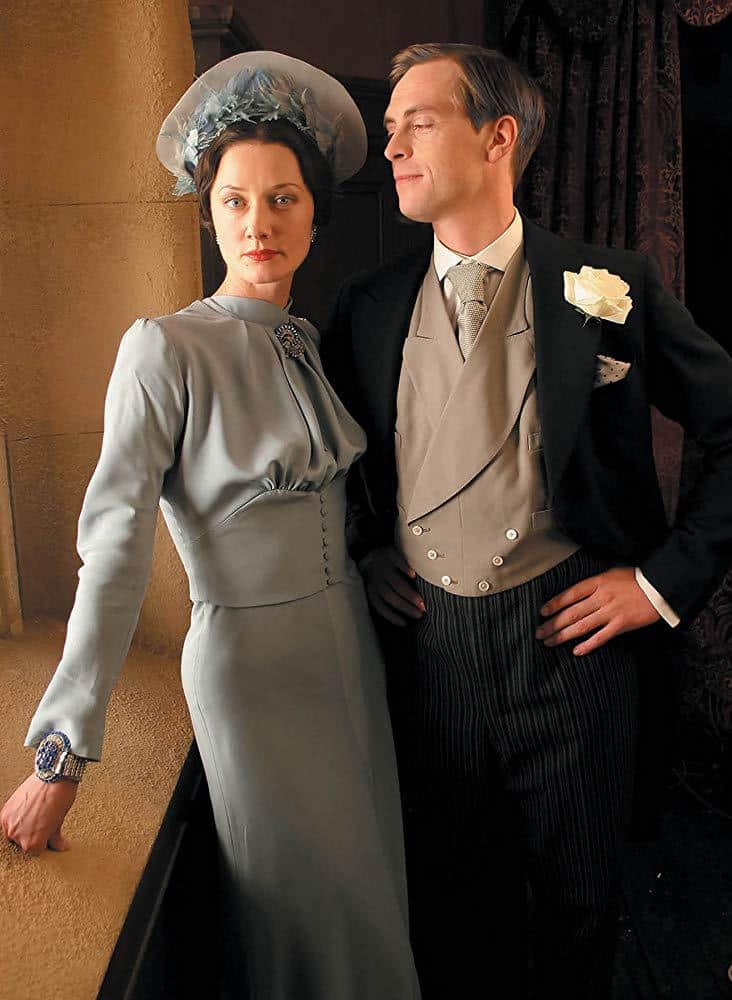 This ITV drama is supposedly written from Wallis Simpson's point of view, and it does paint her in a more flattering light. Her affair with Edward is presented as all his idea, and her divorce from Ernest is explained away as all his idea as well. It's almost as if Wallis is cornered into the marriage because Edward wants to abdicate.
This movie didn't win four Oscars for the Wallis-Edward storyline; that's far in the background to Colin Firth's stuttering and Geoffrey Rush's scenery-chewing. But I'm including it because it's still relevant.
Gillian Anderson and Tom Hollander in Any Human Heart (2010)
I haven't seen this TV miniseries about a novelist who seems to meet every famous person from the 1920s through the 1980s. But the Duke and Duchess of Windsor share enough scenes to get some spiffy costumes, at least.
Andrea Riseborough and James D'Arcy in W.E. (2011)
The almost universally panned film directed by Madonna compares the love story of Wallis and Edward with a modern couple. Nope, haven't seen it. Maybe for Snark Week? The historical costumes look good though and were nominated for an Oscar.
Lia Williams and Alex Jennings in The Crown (2016)
The Netflix series about Queen Elizabeth II's reign dips into the royal past when the Duke of Windsor (Edward's title post-abdication) visits London for his father's funeral. He learns that he and his wife won't be invited to his niece's coronation, so they watch snarkily on TV from their Paris apartment.