If the 19th century gave men nothing else, it gave them the top hat. Today, this sartorial statement has fallen into a mockery of itself used mostly for magic tricks and cartoon characters, but in its heyday, the top hat made a man look incredibly dapper. Nowhere is this more apparent than in historical costume movies and TV series set from the 1810s through 1890s.
Tall hats were first worn by men in the very late 18th century by the Incroyables (a very fashion-forward class of men in post-Revolutionary Paris), and this chapeau evolved into the top hat as we know it by the early 19th century. This style of hat was commonly made of felted beaver fur, and later in the century, silk top hats became fashionable. Top hats were part of a gentleman's outerwear, at first only worn by the upper echelons of society, and then worn commonly by most any man in the city or in a profession. They were less common in country wear, except at formal occasions like on the way to a ball, wedding, or funeral.
Luckily, historical costume movies and TV shows have plenty of opportunity for wearing these toppers, so let's enjoy a few stylish men in top hats today (we'll look at ladies in top hats from films in another Top Five Friday!).
1. Persuasion (2007) – Rupert Penry-Jones as Captain Wentworth Tobias Menzies as Mr. Elliot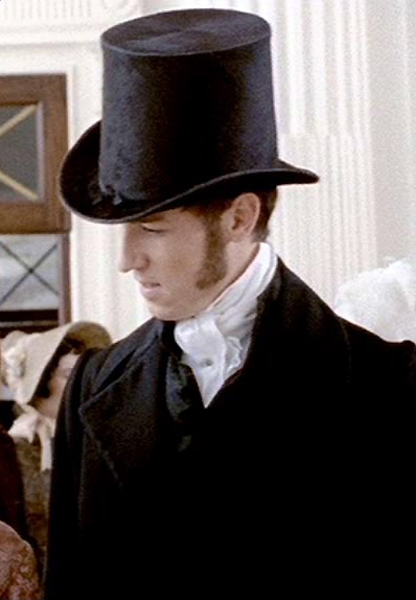 Penry-Jones is swoony but a believable match for Anne.
The original man of fashion!
3. Young Victoria (2009) – Rupert Friend as Prince Albert
Vicky can sod off, we're letting Prince Albert out of the can here.
4. Daniel Deronda (2002) – Hugh Dancy as Daniel Deronda
Proving it's not the height of a man's top hat, it's the accessories.
Grey suit, top hat, and sunglasses on a vampire. You had me at hello!
Who'd we miss? What's your favorite man in a top hat from a historical costume movie or TV show?