Eyeglasses are one of those accessories with a very particular history, so when they're used in historical costume movies and TV shows on a character, glasses can carry a great deal of meaning. Corrective eyeglasses could be worn by men and women dating back to the middle ages in Europe, but until the early 20th century, most people who needed eyeglasses did not wear them on an everyday basis. They were a tool used for a specific activity, such as reading or sewing or inspecting something closeup. Wearing them frequently would risk loss of this valuable tool, and being painted or photographed wearing them was showing off their status symbol. I wrote a detailed article about historical eyeglasses, particularly women wearing them, with an eye(hah) towards historical reenactors. Because, as a glasses-wearing chick myself, it's of interest!
A lot of times, when eyeglasses show up in frock flicks, they're an "artistic choice" that doesn't make historical sense, especially when movies and TV shows choose sunglasses (which were typically used people with eye illnesses until about the 1920s). Sorry, Picnic at Hanging Rock (2018) and The Affair of the Necklace (2001)!
So let's look at a few places that got glasses more or less right!
Benjamin Franklin in John Adams (2008)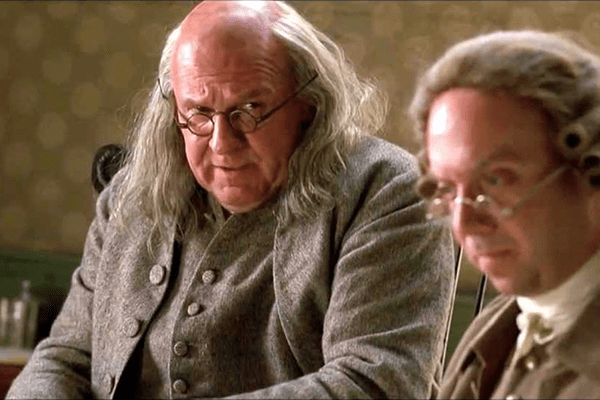 Obviously, Ben "I invented bifocals" Franklin has to wear some specs. As played by Tom Wilkinson in this excellent miniseries, Franklin doesn't always wear them, just when necessary, and the same goes for other gents who might need them. He deservedly won an Emmy and a Golden Globe for this performance, plus the series won an Emmy for Outstanding Costumes for a Miniseries, Movie or a Special.
Mary is Jane Austen's nerd, mocked relentlessly by both her sisters and the author for being a little too accomplished in the arts and books but not in the social graces. So the 1940, 1980, and 1995 adaptions of the novel give Mary glasses to make her awkwardness totally obvious. Here, Lucy Briers plays Mary to perfection, only wearing her spectacles when she's playing piano or reading a book. This suits the character and is historically accurate.
The eldest Brontë sister had terrible eyesight, but most biopics omit Charlotte wearing glasses. The Brontës of Haworth (1973) occasionally show her with them, but I appreciated this adaption where Finn Atkins as Charlotte squints and hunches over her manuscripts, peering through her poor glasses prescription, furiously writing her masterpiece.
Theodore Roosevelt in The Alienist (2018)
So it's not great history nor a brilliant mystery, but I don't mind this new series working in a few historical figures. Brian Geraghty plays a young Theodore Roosevelt during his New York City police commissioner days, showing his early use of spectacles. This was influential in popular culture because, as Roosevelt became a well-known public figure and was seen as an active, fit, and adventurous man who also wore glasses, a little of the association between glasses and nerdiness was lessened, at least for men.
She famously quipped: "Boys don't make passes at girls who wear glasses." But she said a lot of snarky things, and that's why we love her. Jennifer Jason Leigh's portrayal of the famously witty writer is as booze-sodden and melodramatic as Parker's life reportedly was. And while she doesn't wear eyeglasses too often, when she gets down to writing, on go the glasses.
Do you wear glasses? Have you noticed eyeglasses in historical movies?