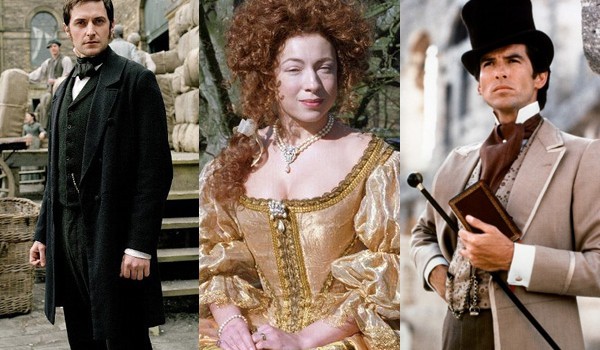 When I'm looking to write a Man Candy Monday or Woman Crush Wednesday, I usually identify people who've been in a whole bunch of historical costume movies and/or TV shows. Those faces that show up over and over again, sometimes surprisingly so, sometimes obviously.
But there are also actors who've only been in a few frock flicks yet were so good but didn't turn up in that many others. Or who just seem like they would be super appropriate for cravats and frock coats, bustle gowns and corsets, but somehow, they don't make that choice very often, if at all. What the hell? C'mom, people! We need more!
So here are my top five actors I'd like to see in more historical costume movie/TV roles. They're just so tantalizing, surely they could get their agents to hook them up with the BBC, ITV, PBS Masterpiece, or the like…
Alex Kingston
She's had some ah-may-zing frock flick roles as Moll Flanders (1996), Mrs. Bennet in Lost in Austen (2008), and Dr. Blanche Mottershead in Upstairs, Downstairs (2012). She excels at unconventional characters in historical settings, meshing a touch of modern with historical sensibilities. I'd love to see more of this!
John Cusack
Yes, this is my high-school-era crush, shaddup, this is my blog. Cusack randomly played Edgar Allan Poe in a not-great horror flick The Raven (2012), and I really feel like he could do better historical-character-wise. He was also in the farcical early 20th-c. The Road to Wellville (1994) and starred in Woody Allen's 1920s-set Bullets Over Broadway (1994). He has the aptitude, he just needs to stretch (because he's still cute, OK!).
Pierce Brosnan
He always seems like a wasted opportunity in regards to frock flicks. Sure, Pierce Brosnan did the obligatory James Bond stuff, but unlike Timothy Dalton, he didn't have a majorly historical costume past and barely did any frock flicks post or concurrent to Bond. His few credits include The Deceivers (1988), Robinson Crusoe (1997) and Around the World in 80 Days (1989), but really, he should be showing up in Downton Abbey or Victoria or something by now.
Geena Davis
She's really focusing on her Institute on Gender in Media, while also working in TV. But the few frock flick-y roles Davis has taken were fantastic, and she's such a great actress, I'd just love to see her in historical costume more. Plus, she could influence productions to show more historical stories about women's achievements throughout time. Pretty much all she's done so far is A League of Their Own (1992) — stunningly important for women and just a great entertaining film — and Cutthroat Island (1995). We need you, Geena!
Richard Armitage
I've ranted about Armitage's sad lack of cravat-worthy roles aside from North and South (2004) already, but it bears repeating. I don't care if he played a dwarf in The Hobbit, he needs to suit up in a frock coat again! I HAVE NEEDS.
Who else needs to up their frock flick game?