We had a wretched heatwave recently, so I got literal and rewatched one of my favorite flicks, Some Like It Hot (1959). This is such a hilarious movie, it's perfect when you're flopped out on the couch and a little brain-dead from the heat. Which isn't to say it's a dumb movie — it's not! There's clever wordplay and great acting, but the story is wacky fun and not some labyrinthine mystery. Also, it's a decent frock flick with 1920s costumes by the master Orry-Kelly!
The basic gist of the story is that, in February 1929, two jazz band musicians Joe (Tony Curtis) and Jerry (Jack Lemmon) accidentally witness a mob murder (modeled on the St. Valentine's Day massacre) and need to skip town. They disguise themselves as women called Josephine and Daphne so they can join an all-women band that's headed by train to play a show in Miami. The band's featured singer is a blonde bombshell Sugar Kane (Marilyn Monroe), who they both have the hots for but, of course, can't let on that they're really guys. Hijinx ensue, including another visit from the mobsters in Miami. I don't want to talk to much about the plot in case some of you haven't seen it, because YOU MUST watch this movie, it's funny and still holds up. And while using men cross-dressing can be a hackneyed cliche, here it's done deftly and subversively.
So on to the costumes! Orry-Kelly was originally hired for and is credited on screen as designing gowns for Miss Monroe. Curtis and Lemmon were supposed to wear dresses from costume stock. But Jack Lemmon reportedly said:
"We did put our feet down when we wanted better dresses. They wanted us to select off-the-rack stuff from the costume department. We said we wanted dresses done by Orry-Kelly, who was doing Monroe's costumes."
And Tony Curtis agreed:
"I didn't want to look like Loretta Young. You know, those high-waisted things, and I wanted a new designer dress of my own, not one of those used things. I went to Billy [Wilder, the director], and I told him Jack and I wanted Orry-Kelly dresses, too. He said, 'Okay.'"
Lemmon also really got into his part and collaborated with the makeup artist Harry Ray on the right look for Daphne. One of the reasons director Billy Wilder shot the film in black and white was he thought color film would be too garish for Curtis and Lemmon's drag act, while black and white would aid with the suspension of disbelief.
It's a good thing Orry-Kelly did design the costumes for Curtis and Lemmon because these are the ones that have the most 1920s style of the whole film, giving a nod to the period. Of course, the straight, drop-waist style of the period is relatively flattering on these male figures without extensive padding.
The first time we see Josephine and Daphne, they're wrapped in coats (it's winter in Chicago) and running for the train.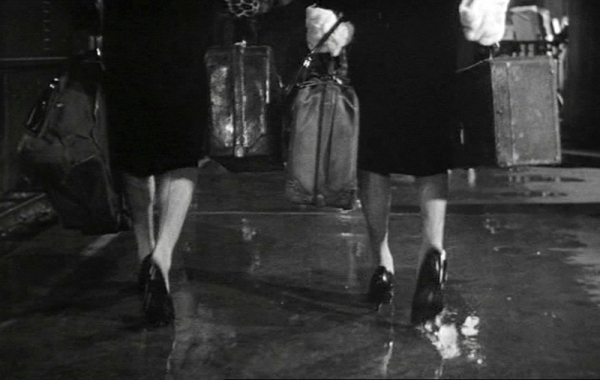 Josephine and Daphne always have correct '20s cloche hats, even if their shoes and bags are more '50s in style. Still, they do have all the required accessories, down to gloves and jewelry.
Underneath those coats, Josephine and Daphne are wearing blouse-and-skirt combos, that are briefly seen on the train. Josephine's blouse, in particular, does have a good period style.  The wigs are kinda tragic, but then, the hair on the women is standard 1950s as well.
Their other daytime outfits are these pastel ensembles, which do nail the '20s shape. They're a bit dowdy, and those purses and shoes are '50s, but I think this shows a solid 1920s daytime drag.
The other cross-dressing look is the black beaded gowns that Josephine and Daphne wear for the band's performance. This is actually a uniform that the entire band wears, and you can see the other musicians wearing the same gown, necklace, and earrings. But Daphne shows her outfit off more during the evening.
Oh and there are one last set of outfits Josephine and Daphne wear — PJs! Which aren't especially historical, but they're cute :)
Alright, let's look at Marilyn Monroe's dresses. They're supposed to evoke a "flapper" style with a lot of fringe — which is such a cliche that's not accurate at all for the 1920s. Her first dress is literally fringed.
Plus, her gowns are super slinky and fitted to her body, not the boyish flat-chested shape that was popular in the '20s. In fact, Tony Curtis said of Marilyn Monroe's costume fittings that she was literally sewn into her gowns. Orry-Kelly described the gold sparkly gown as "nude souffle draped on the bias," and bias draping is more 1930s if anything.
The black dress Monroe wears for her finale song has the same cut and style as the first one, also with strategically placed beading. On an auction page for this dress: "Legend tells that Monroe had to be lifted to the piano for this scene as the dress was very form fitting."
Orry-Kelly said of working with Monroe: "I would rather go to Coney Island and open up a hot dog stand than dress that woman again!" — but he won his first costume design Oscar for this movie, so maybe it was worth it!
Have you seen Some Like It Hot?