When you think of the title character of Shakespeare's play Othello, it seems obvious that a he's a non-white person. He is, after all "the Moor of Venice," and in 16th-century England, "moor" could have meant anything from "swarthy person" to a man from Africa or Asia.  In the 19th century, Othello was often played in Arabic costume. Does all this mean Othello must always be played by a person of color? Not necessarily, but the absence of a non-white Othello on film until 1995 is striking. That's when the first major movie studio version was made starring an African-American actor, Laurence Fishburne, as Shakespeare's moor.
To understand how groundbreaking this was, compare with the previous well-known film versions of Othello. In 1951, Orson Welles directed and starred in an award-winning but over-complicated Othello where he physically loomed over Suzanne Cloutier as Desdemona. Welles seemed to go with the standard moor-as-Arab trope.
Somewhat disturbing, to me at least, is 1965's Othello starring Laurence Olivier in blackface. Yes, actual blackface in 1965. Do not adjust your set. Even the New York Times' 1965 review compared Olivier's Othello negatively to "an American minstrel show," so at least someone saw it as backwards for the period. Yet still, this movie was nominated for four acting Oscars that year, including for Olivier. shakes head
So finally, in the '90s, we see Othello played by someone who might have an intrinsic sense of what othering and social isolation is about. Laurence Fishburne's performance smolders first with passion for Desdemona (Irène Jacob) and then with jealousy stoked by Iago (Kenneth Branagh). He's a beautifully barely controlled flame. Branagh's Iago is naturally more of the scenery-chewer, as he does most of the talking and that's what Ken's good at. They're a great pairing in this movie.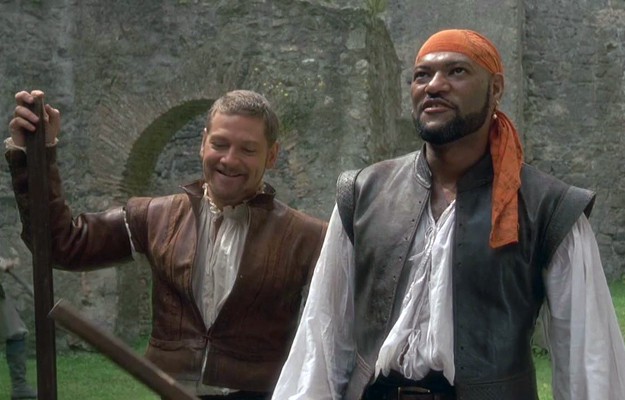 The setting is generally 16th-century Venice, with some scenes filmed in the medieval Orsini Castle in Italy. The costumes are vaguely renfaire-ish, with nothing spectacular but nothing atrocious either. Minimal hats or period hairstyling for anyone, and leather doublets for the men (but at least they don't look too biker-jacket-y). Desdemona's gowns tend to be very simple kirtles in pretty, period-esque fabrics with details (like sleeves and necklines) that lean towards either Florentine or German, depending on the outfit. But it all hangs together to create a theatrical world in which the play is set and provides a background for the Bard's words.
What do you think of Othello?