For some reason, Shakespeare in Love (1998) doesn't get a lot of love in among fans of historical costume movies. Despite the fact that the costumes by the great Sandy Powell are quite high quality, this romantic comedy gets written off by a lot of folks, including the rest of our Frock Flicks staff here. Is it simply because this is a romantic comedy? Well, hello, most of Jane Austen's oeuvre is romantic comedy, but ya'll go nuts for her. Or is it something else? Let's go through the pros and cons of Shakespeare in Love, and I bet we'll realize in the end that this is a fine film, well worth your reconsideration.
Pro: The costumes are fabulous
Hello, Sandy Powell! She knows her stuff, and we loves her. She justifiably won the Best Costume Academy Award for this movie. The look is generally accurate to the 1590s setting with a few exceptions (we'll get to it, promise). The silhouettes are great, and in various dressing and undressing scenes, we see late 16th-century stays, smocks, farthingales, and such. The trimming is lush and gorgeous. There are a range of characters, from scummy lower-class actors and ruffians to middling-class bankers to Queen Elizabeth's court, and everybody wears garb appropriate to their station and that helps tell the story and build a world within the film.
Con: Leading-character syndrome, this film has it
OK everyone, vent your spleen about Gwyneth Paltrow's hair and Joseph Fiennes' open shirt. UGH. WE GET IT. They're the leads. They're modern and relatable. cue massive eye rolling from everyone who writes and reads this site But hey, it could have been a lot worse, so even when I watch it now, this doesn't bother me too much. I'll forgive her hair mostly because the main times when she wears it down are in states of undress or in the final stage scene as Juliet, so it's literally a theatrical choice. OK, there's that other time too… Obviously, YMMV.
Pro: Great minor characters
Colin Firth plays a super well-dressed super baddie who wants to marry Gwynnie for her money. He's the jerkiest jerk who ever got jerked over without realizing it. Judi Dench as a smart-ass ballsy Queen Elizabeth I, who's not going to wait for your damned cloak.
Then there's the theater people, which anyone who's worked behind the scenes will recognize as beloved tropes. Geoffrey Rush is the always hustling theater manager who is convinced the show will go on, how?, it's a mystery! (as someone who's spent decades running costumed events, I deeply identify with that character). Tom Wilkinson as the banker who starts out holding Rush's feet literally to the fire but then gets sucked into the theater magic.  The Oscar-winning screenwriter was Tom Stoppard here, and you just know he pulled these characters from all his own memories of working in the drama world.
Con: Some casting flubs
I dunno, Ben Affleck? Is that the best they could do? I read they had to cast him, and he's not the worst, but he always sticks out a little as super-modern to me. But other people complain about Geoffrey Rush, some dislike Paltrow. No film is perfect.
Pro: Cross-dressing gender-play romance
The major conceit of the film is that Gwyneth Paltrow's character cross-dresses as a boy to play the male lead, Romeo, in Shakespeare's new play. Of course, at the time, boys played female roles, so a male actor is playing Juliet during the many rehearsal scenes in the movie. And then Paltrow's character is talking over the boy-in-drag to an actual male, Fiennes, who she's in love with. Cute, no?
Con: It's pretty cis-gender, hetero after all
Yeah, yeah, I know. The scenes play with all the crosswise romance, but the only "real" approved OK love is between the heteronormative leads. C'mon, it's a big-budget Hollywood movie from 1998, you can't expect too much boundary pushing.
Pro: Shakespeare!
As the resident English literature geek here, I adore how Tom Stoppard wove actual Shakespearean text from different plays and a few poems throughout the film, either direct words or references. It's clever and feels fun, instead of just being a straight-up Shakespeare play.
Con: Not really Shakespeare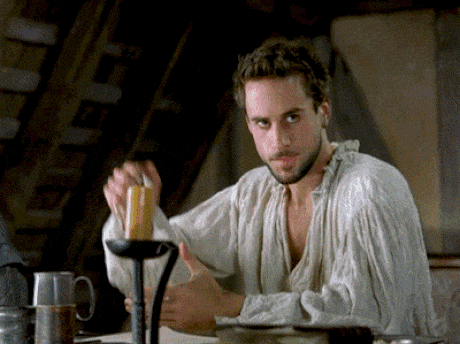 Well, sure, it's not traditional Shakespeare, and the story is almost total fiction other than some of the characters names and the basic setting. But for historical fiction, this is the way to do it (I'm looking at you, Phillipa Gregory).
Pro: Romance! Poetry! C'mon, have a heart!
If you want a date movie for history nerds, this does what it says on the label. It's got Shakespeare, it's got love, there's sweet poetry-in-bed scenes, there's fancy dress balls, you get multiple versions of the Romeo and Juliet balcony scene, and the ending isn't 'happily ever after' a la Disney either.For all my dark, bitter exterior, I'm a romantic at heart (deep, deep at heart, underneath a really cold, crusty layer), so this flick speaks to me.
Con: You're dead inside?
People who aren't in the mood for a romance just aren't gonna be swayed at this point. Oh well.
Where do you stand on Shakespeare in Love?