This one goes out to Rhawnie, who is related to one of the most handsome men to have ever graced the silver screen, Tyrone Power. I mean, it sort of feels weird when you're sitting there realizing that you're lusting after a guy who is your friend's blood relative, not to mention he's dead and all. But DUDE. LOOK AT HIM. If lusting after Tyrone Power is wrong, I don't want to be right. Hope that isn't creepy, Rhawnie.
Lloyds of London (1936)
Bites fist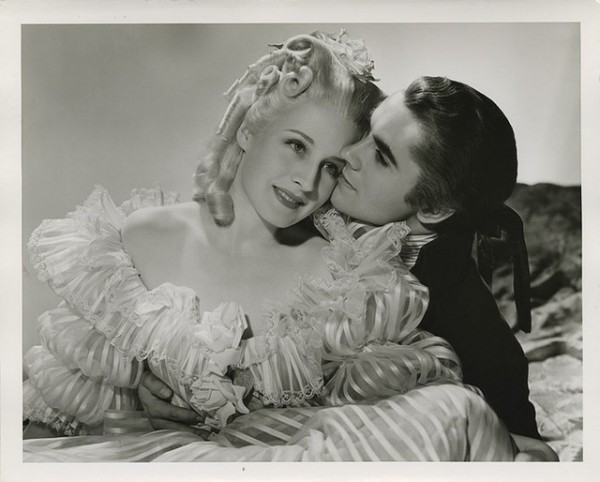 Before there was Jamie Dornan as Count Ferson in Sofia Coppola's Marie Antoinette, there was Tyrone Power as the sexy soldier who steals the queen's heart. I had to stop myself from adding every photo I could find of Tyrone Power in this movie, because he's so epically charming, it's not even funny.
"Hey, want to watch a movie about the founder of the Mormon church?"
"No."
"It has Tyrone Power in it."
"Fire it up."
Power was the fourth actor to star as the roguish, yet charming "masked man."
Blood and Sand (1941)
Not really a historical movie (it takes place in contemporary 1940-whatever), but it has pretty awesome toreador costumes.
Son of Fury: The Story of Benjamin Blake (1942)
I think this movie takes place in the 1820s, but hell if I know. All I could focus on was Tyrone Power in those barkcloth diapers.

Basically, he's the OG Dread Pirate Roberts. There are plenty of costumes in this film, but they don't call this "Man Candy Monday" for nothing!
No, not the 1970s easy-listening band/husband & wife Captain & Tennille. I know you were confused.
Prince of Foxes (1949)
More like, "Prince Is Foxy," am I right?