The historical figure of Robert Dudley, Earl of Leicester, is best known for being Queen Elizabeth I's "favorite" at court. The queen showered him with titles, lands, and affection, which lead to much gossip about the two being lovers. True or not, their close relationship has been fodder for films and TV. While Leicester himself doesn't seem to have gotten a biopic treatment, any time QEI shows up onscreen, he's sure to be by his side, portrayed by some dashing fellow. Who should look something like this, depending on the year…
While I have my favorite RenFaire Dudley, I enjoy different filmed versions for different reasons. So let's review the whole lot of Leicesters and see how they stack up as Elizabethan man candy.
The earliest Queen Elizabeth movies weren't so much romances as action flicks with lots of swashbuckling and derring-do, usually by pirates and/or Sir Walter Raleigh. Thus Leicester only plays the role of queen's advisor, and Leslie Banks' portrayal includes a lot of warning Her Majesty about things and being shocked/outraged at what happens.
Robert Dudley's part was pretty small here, and The Virgin Queen focused on Elizabeth's relationship with Sir Walter Raleigh (played by Robert Todd). This is the only decent picture I can find of Herbert Marshall as Dudley!
Robert Hardy in Elizabeth R (1971)
Finally, in the best onscreen biography of Elizabeth's life, we get the best Dudley! Robert Hardy may be known today as a character actor in period drama or as the Minister of Magic in Harry Potter, but before all that he was the shrewdly political Leicester. He showed the complexity, the frustration, and the depth of this character so well — the man who was closer to the queen than anyone else, yet always kept at an arm's distance. Much like the historical writings, much is left unsaid in Hardy's performance with Glenda Jackson, and yet there's so much emotion visible.
Yeah, it's kind of weird that Elizabeth's love life gets so much screentime in a biopic about Mary, Queen of Scots. I guess this relationship shows contrast to Mary's marriages? Sure, whatever. This is also the movie that has the two queens meeting, so not like it's high on the historical accuracy level. The flick does get points for having Glenda Jackson as QEI though.
Joseph Fiennes in Elizabeth (1998)
And now, Dudley and Elizabeth are allllll about the romance. It's not subtle, it's a major plotline — will she marry him or won't she? At least we get some great masque scenes and that delightful volta.
Jeremy Irons in Elizabeth I (2005)
Awww yisss, back to the good stuff! It takes some gravitas as an actor to play this role and not make him look like just Elizabeth's boy-toy. Jeremy Irons is well-matched to Helen Mirren here, and they give life the middle part of Elizabeth's reign. These two take on everything from court gossip to the Spanish Armada as a team, with Irons' Dudley supporting her, supplicating to her, just as I can imagine the real Dudley must have.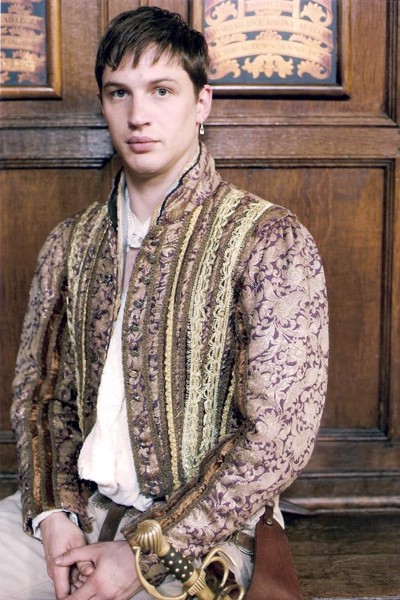 Yes, Kendra's favorite, but he's really just here for the snogging, you can tell. Not a lot of historical nuance on his part, and I don't find that he can match up to Anne-Marie Duff.
Charlie Carrick in Reign (2017)
Obligatory Dudley is obligatory. He's cute, I suppose, but what the frock is he wearing?
Who's your favorite movie or TV version of Robert Dudley, Earl of Leicester?