Happy birthday to the man who would have ruled the world but for Waterloo! Born August 15, 1769, Napoleon Bonaparte was not only a brilliant military commander, he's turned up in endless historical costume movies and TV series (I'm looking at you, War and Peace). Let's give the birthday boy his due — who's a ziggy piggy?
But first, a quick review of contemporary images, young and old. Napoleon was quite the dashing revolutionary, before he settled down into empire-making megalomania.
Now let's see how the on-screen representations measure up…
Napoleon Bonaparte in Movies and TV
Charles Boyer in Conquest (1937)
This Napoleon is a lover not a fighter! And with Greta Garbo as the married Countess Marie Walewska, who could blame him?
Marlon Brando in Désirée (1954)
Apparently, Hollywood only thought Napoleon Bonaparte's story was interesting if framed around his mistresses. OK. At least Brando nails the look.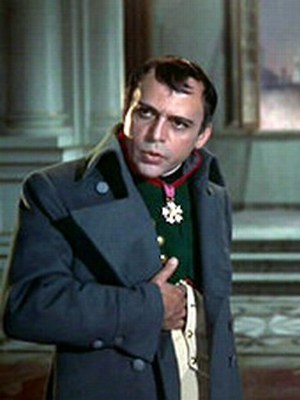 This is the one with Audrey Hepburn, which veers between being very pretty and very WTF.
As we'll see, Napoleon is a popular figure in time-traveling stories.
Vladislav Strzhelchik in War and Peace (1966)
This Soviet Union production is widely praised as being faithful to Tolstoy, and the images show quite high production values for the era.
Rod Steiger in Waterloo (1970)
Battles, battles, battles, this one's got the big battles that made Napoleon famous (and infamous).
David Swift in War & Peace (1972-4)
Why doesn't any one talk about this British TV version of War & Peace? It starred Anthony Hopkins as Pierre (winning him a BAFTA), and the costumes by Charles Knode won an Emmy.
Aw yeah, back to Napoleon Bonaparte's love life!
James Tolkan in Love and Death (1975)
In this early Woody Allen farce, two Russians attempt to assassinate Napoleon and hijinks ensue.
Repeat actor playing Napoleon Bonaparte, now in a time-travel fantasy.
Patrice Chéreau in Adieu Bonaparte (1985)
Set during the French Occupation of Egypt, this French-Arabic production tells the lesser-known story of Napoleon's early expeditions (with quite the hottie as Bonaparte).
With Jacqueline Bisset as Josephine, this TV miniseries is one big, melty, fabulous '80s cheese-fest.
Admittedly, here is the reason I'm writing this post. I'm a fan!
Holm's third go at portraying Napoleon Bonaparte, here, it's during the emperor's exile with a comedy caper.
Christian Clavier in Napoléon (2002)
With Isabella Rossellini as Josephine, John Malkovich as Charles Talleyrand, Gérard Depardieu as Joseph Fouché, and an enormous budget.
Another year, another Tolstoy adaption.
Mathieu Kassovitz in War & Peace (2016)
And, as we always say, beware the ampersand…
Do you have a favorite Napoleon Bonaparte in movies or TV? Is there one I've left out who you love?