On this day in 1971, our dear Tenth Doctor, David Tennant was born! (Trivia moment: He was born David McDonald and chose the surname "Tennant" from the Pet Shop Boys singer. Yay for '80s New Wave tie-in!) Of course, he's not just Doctor Who, oh no. This utterly charming Scots lad had a long acting career before and after his Whovian turn, as a member of the Royal Shakespeare Company and in plenty of TV shows and movies.
I'd started this post with the idea of reviewing various of David Tennent's works, but as soon as I started collecting images, I fell down a Pinterest-Tumbler-Google rabbithole of delicious red-velvet mancake with David Tennant filling. So I'm just going to layer on all the photos I found of Mr. Yummy McTennant in historical costume roles, and you can enjoy this tasty treat. I did have to restrict photos to historical movies and TV shows, so no Doctor Who (except where noted) and no Harry Potter, Gracepoint, or Jessica Jones. But I had to include some of his theater work because a) it's historical and b) hello, David Tennant!
Jude (1996) – Drunk Undergraduate
Worth noting because this Thomas Hardy adaption became a Doctor Who crossover. Christopher Eccleston played the eponymous Jude, and he later played the Ninth Doctor, preceding Tennant in the role.
As You Like It (1996) – Touchstone
Not a movie or TV production, but David Tennant performed as the jester in the Royal Shakespeare Company's production to much acclaim. And adorableness.
The General From America (1996) – Colonel Hamilton
Also at the RSC, Tennant played Hamilton, decades before the role went hip-hop.
Set at an Irish country manor in the 1920s, David Tennant plays a young English army captain who's in love with the Irish lord's daughter.
I recently reviewed this 1920s murder-mystery series and pointed out how the second episode features a Doctor Who crossover with David Tennant and (his personal fave) the Fifth Doctor Peter Davidson!
Foyle's War, "A Lesson in Murder" (2002) – Theo Howard
Another murder-mystery series, this one set during World War II, with David Tennant as a conscientious objector.
This 1930s satire was written and directed by Stephen Fry (based on an Evelyn Waugh novel). David Tennant is something of an upper-class twit in this one.
David Tennant as a greedy vicar in an Anthony Trollope adaption? Well, two villains in a row must have been fun to play, and there's something inherently hot about a bad priest.
Casanova (2005) – Casanova
Surely you all know this miniseries! It's a fluffy little romp, low on the historical accuracy, high on the romance, with David Tennant staring as the notorious lover.
Doctor Who, "Human Nature" / "The Family of Blood" (2007)
The Doctor travels through time, but rarely blends in with the historical period. One exception is this two-part episode set in 1913 where the Doctor essentially goes undercover as a teacher at an English boys school.
In this TV movie, David Tennant portrays British scientist Sir Arthur Eddington, who worked closely with Albert Einstein circa 1914. Wibbley-wobbley timey-wimey for reals.
Love's Labors Lost (2008) – Berowne
There's no film of this production AFAIK, but let's just admire these images of David Tennant in a fancy slashed doublet.
Just a small role in a 1939 thriller about aristocratic Nazi sympathizers, his character is one of the few warning about the impending war.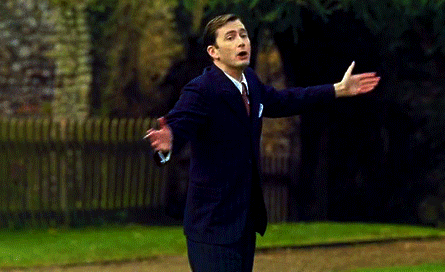 Much Ado About Nothing
(2011) – Benedick
While I usually wouldn't count something set as recent as the 1980s as "historical," lookit how cute he is!
Spies of Warsaw (2013) – Jean-François Mercier
In this two-part spy thriller set in 1930s Poland, David Tennant portrays a decorated First World War hero juggling diplomatic duties with information-trafficking. I don't care which side he's on, he looks mighty fine.
Richard II (2013) – Richard II
A film of the Royal Shakespeare Company version with a fairly traditional "stage" medieval look, right down to David Tennant's long hair. Sexah!
Bonus pix!
What's your favorite David Tennant historical costume role?