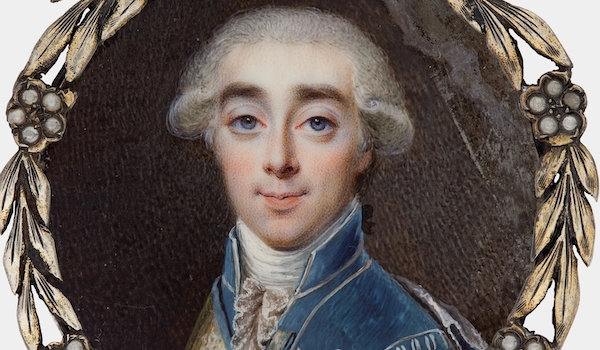 Hans Axel von Fersen (1755-1810) was a Swedish count and Swedish general who spent time in France as a diplomat, where he became close to Marie-Antoinette, and served in the American Revolutionary War. His relationship with Marie-Antoinette is the usual focus of popular interest, as the two of them were probably in love and JUST SLIGHTLY POSSIBLY lovers. He also played an important part in the Flight to Varennes, in which the royal family tried to escape the French Revolution (but were caught, a real negative turning point for them). When the Swedish Crown Prince died in 1810, Fersen was falsely suspected by political opponents of poisoning him, and a mob attacked and killed him in Stockholm Square (right, I may add, where there's now a fabulous museum of Swedish royal costumes).
Let's run down the screen depictions of this real-life 18th-century heartthrob!
L'Enfant Roi (1923)
A silent French short about the dauphin, son of Marie-Antoinette and Louis XVI. Fersen is played by Georges Vaultier.
Tyrone Power as Fersen is a major focus of this classic starring Norma Shearer. We've analyzed Fersen's hair in this film, soon we'll do a deep dive on the whole shebang.
Royal Affairs in Versailles (1954)
Wait! Editing this post to add Jean-Claude Pascal as Fersen in this multi-episodic wander through French history. Because I am a completionist! And I forgot him!
A surprisingly entertaining, surprisingly well-costumed French film, with British actor Richard Todd as the Swedish count.
Marie Antoinette (1975)
A French TV miniseries that I really plan to watch and review sooner than later. Henri Déus plays Fersen.
Waffen für Amerika (1976)
A German TV movie, which was an adaptation of a historical novel focusing on Beaumarchais and Benjamin Franklin. Argentinian actor Sky du Mont (EXCELLENT name!) plays Fersen.
La nuit de l'été (1979)
This looks potentially baaaaad — like, entertainingly bad? A French TV movie about the French royal family's failed escape to Varennes, with Gérard Chambre as the Swedish count leading the effort.
SO BAD IT'S GOOD live adaptation of the animated Rose of Versailles, in which a female soldier lives as a man. She has a flirtation with Fersen (Swedish actor Jonas Bergström).
A strong attempt to tell the story of the French Revolution from both the monarchy's and the leading revolutionaries' perspectives. Fersen is only a bit part, and he's played by Jean-Yves Berteloot.
Les jupons de la révolution (1989)
A French TV series, with six episodes focusing on different people involved in the French Revolution; Laurent Le Doyen plays Fersen in the episode focusing on Marie-Antoinette.
Marie Antoinette la véritable histoire (2006)
A docudrama about Marie-Antoinette, timed to be released at the same time as Sophia Coppola's fictional account (below). Canadian actor Danny Gilmore plays Fersen.
Sophia Coppola's young and hip take on Marie-Antoinette, with American Jamie Dornan looking mighty fine as Fersen.
Which cinematic Axel von Fersen makes you swoon?