Ann Roth might not be a common name among frock flick fans, but this costume designer has been working in Hollywood and on Broadway for decades. Whether creating office looks for 9 to 5 (1980) and Working Girl (1988), dressing drag queens in The Birdcage (1996), or making memories with Mamma Mia! (2008), she's always designing real clothes for real characters, not fantasy or fashion. As she told Variety, from the start of her career: "I was not attracted to doing modern clothes for movie stars and making them look like who they are." She specializes in creating clothes that help the actor express their part, as opposed to making a big, flashy statement with the costumes themselves. Roth examines the character's background before designing the clothes, explaining in a Deadline interview:
"You have to see each character and figure out where they came from. Where did they grow up, if they went to parochial school, if they left parochial school, if they ran away and joined the circus. Where did that jacket come from? Who made it? Was it left it in a bar three years ago and he took it? It's that kind of imagination, and when you get the actor to work with you, that's really fun. If the shirt has been washed in the sink with lye soap, if just the collar is washed, if the guy wants to wash it but he falls asleep every night and the shirt's on the floor, what does it look like and how many shirts does he have? Those are the questions you ask yourself."
She's up for the Best Costume Design Oscar this year for Ma Rainey's Black Bottom, and she's already won a BAFTA and Costume Designers Guild Award for this film. It's about time we recognized her historical costume prowess!
The Day of the Locust (1975)
In an interview with LiveDesign, Roth talked about using authentic garments onscreen and in research:
"Let me tell you something: I am the first girl in this business to use real period clothes. I've done this for a long time, because I come from this coast [East] and they come from that coast [West]. When they did 'The Sting,' I was doing 'The Day of the Locust.' While I had some real stuff I had brought from here, or worked out of museums, having clothes copied, they would just go into the stockroom and pull things out."
Mandingo (1975)
Valley Forge (1975)
The Best of Families (1977)
The Royal Family (1977)
Places in the Heart (1984)
Maxie (1985)
Sweet Dreams (1985)
Biloxi Blues (1988)
The Mambo Kings (1992)
In an interview with LiveDesign, Roth said of Gwyneth Paltrow's character:
"She's a girl who comes from a good family, and goes to Europe to write. She hangs out in her pajamas and her skirts, and she has a bikini on underneath her skirt and blouse when she goes to town. She doesn't buy her own clothes, they are her parents' purchases she had from school. I also wanted to reflect that in the jewelry, which might have been her Aunt Mary's, and God knows where Aunt Mary got it."
According to The New York Times, in preproduction for The Hours:
"Ms. Roth handed Ms. Kidman a muslin dress and a hat, and then, staring at her perfect camera-ready nose, she said, "We have to do something about your face.'"
And that's how Nicole Kidman came to wear a prosthetic nose as Virginia Woolf.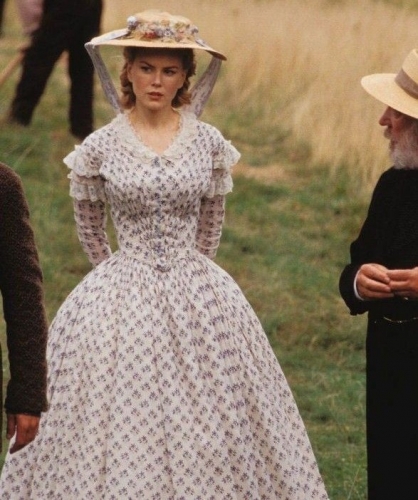 According to The New York Times, Ann Roth learned that the fabric of the North Carolina 25th Infantry was called "butternut" because it was dyed with butternut tree bark:
"So she tracked down someone named Pat Cline in Pennsylvania, who knew exactly how to dye the thread to look authentic. Ms. Roth had the fabric woven and printed in Montana, dyed and aged in Rome, and shipped to Romania, where the filming took place."
Julie & Julia (2009)
Ann Roth and Meryl Streep have worked together on many films and call each other friends. In the L.A. Times, Streep said of Roth:
"I really think she is the unsung heroine of my career. She's really done a lot for me, and for the women I have portrayed. She has drawn fully half of them."
While comparisons might be made to Joan Crawford's 1945 film of the same name, in Harper's Bazaar, Ann Roth said that wasn't an influence on her costume designs:
"I would never look at movies for my work. I would look at real clothes from the period and photographs from the period. One doesn't look at other people's work."
The Post (2017)
In the Hollywood Reporter, Ann Roth talked about how she approached Streep's character for this film:
"I'm a huge researcher to the point where I have to say it's too much. And so I read Katharine Graham's book and I had met her a few times, and had dinner at Ben Bradlee's house a few times over the years. I know where she went to school and what kind of life she had, and I know that when she was a young woman she probably went to Garfinckels (Washington D.C's now-defunct fashion arbiter) and there was a lady there who would help her. I don't think until after her husband died did she get into going up to New York, getting more social and she got hooked on Halston. But still, it wasn't the day when somebody said, 'what are you wearing?' In those days, nice women did not talk about the labels in their dresses."
Roth said of the caftan:
"That was a nice fabric. I live in New York on Lexington Avenue and right up the street are all the great Indian shops, but I finally found that fabric in Edison, N.J. The caftan wasn't based on real life, it's just what I decided. We also found a great six-ply silk Gucci fabric for one of the dresses she wears; it's hard to find good silks nowadays."
Speaking to Netflix Queue, Ann Roth said:
"I know one thing was big for the ladies in the period we're talking about. They had to look good. There was a lot of washing and ironing and pressing. And for the guys, it was very important that they had a clean white shirt and their shoes were shined. When they walked into the tent or the theater, they were showbiz."
Viola Davis had to wear extensive padding and gain weight for this role, which Ann Roth had to work with to design her gowns:
"When Viola walked into the fitting room, I can't say it wasn't tense. It's a difficult thing, to think of yourself acting and singing in a rubber suit for two months. We put the suit on, I slid a dress of the period over her body, and that did it. When she looked in the mirror, she started to see someone else. And that is the secret to being free to be someone else."
Roth found period-appropriate coins to make Ma Rainey's signature necklace of gold-dollar coins, which is briefly seen early in the film:
"If you go to the costume rental house and say, 'Yeah, that looks like the pictures,' it's not the same. I'm forever searching. I do not do costumes over the internet. I have to find them for myself. That's being a costume designer."
What's your favorite of Ann Roth's historical costume movie designs?