If you're a fan of Timeless, the time-traveling history/conspiracy TV show, then you already know the bad news: the show has been canceled after two seasons according to Deadline and many other sources, and our only hope to resolve the Massive Cliffhanger at the end is a possible two-hour movie. SOB. No, it's not Life Changing Cinema, but I've really enjoyed the show. They've done a great job making the through-plot interesting, created enjoyable characters, and I love seeing which period they're going to go to next!
According to costume designer Mari-An Ceo, the prep time for the costume department is super quick: only a few days from when she and her team get the script to shooting! Ceo told Gold Derby, "It's zero to 90 every single day. We'll get a script and we will send out to our whole department. We break it down, we call historians, we do boards, we do sketches, we pull from the costume houses, and we start getting ideas we can draw from" ('Timeless' costume designer Mari-An Ceo goes from 'zero to 90 every single day'). More impressively, they make most of the costumes for the principal actors themselves. Ceo said, "We have found we just have so much more control in the time period that we have to do it to just source the fabric, make it and fit it to the actor. Sometimes you purchase something or get something from a costume house, by the time you remake it, it's taken way too much time and too much money and may not be exactly what you want."
Ceo also has a commitment to accuracy in more ways than one. For one thing, she wants to get the period right — for example, in the first season, the director wanted fewer hats because of the proverbial "they get in the way of the actors" bs. But Ceo insisted that the hats stay, and encouraged the actors to incorporate the hats into their acting: "I said, 'Guys, if you're gonna keep the hats on, we need home hat-cting.' That's what I called it. 'We need to gesture with the hats.' We've had great fun with how they've worked their clothes. They try to one-up each other, how they're tipping hats or pointing it to gesture" ('Timeless' costume designer Mari-An Ceo goes from 'zero to 90 every single day'). She's also aware of the fact that while styles change, individual people's wardrobes may not always be up to date. She told RoleMommy, "During certain periods in history, women held onto their clothes for 15 years – you have to make sure that you know what they were truly wearing during that time or you aren't staying true to the clothing worn during that period" (Q&A With Timeless Star Abigail Spencer and Costume Designer Mari-An Ceo). She also pays attention to the story of the show itself; for example, in early episodes, before the fictional team is given a costume department in the show itself, she made a point of making the costumes not-quite-right for the era, like Lucy's dress in the Lincoln episode, of which Ceo said, "It was acceptable, but that was before they had help from other people [i.e. the fictional costume department]. It's a little off for the time period, which was done intentionally" ('Timeless' Fashion Trip: Costume Designer Mari-An Ceo on the Show's Time-Traveling Looks).
Let's take a look at the second half of season two (first half reviewed here), and cross our fingers for that movie wrap-up. I'm going to skip episode 5, "The Kennedy Curse," because unlike others, it takes place in the present day.
Episode 6: The King of the Delta Blues
Mason joins the team as they head to 1936 Texas to make sure that blues musician Robert Johnson records his album, laying the foundation for rock and roll and all the cultural changes that accompanied it. The best dialogue EVER happens. The team has just arrived in 1936 and Mason is all freaked out at having just done his first time travel:
Episode 7: Mrs. Sherlock Holmes
Nope, nothing to do with the Arthur Conan Doyle character. This episode is set during the women's suffrage movement in 1919, and the title is a reference to Grace Humiston, a lawyer known for her ability to solve cold cases.
Episode 8: The Day Reagan Was Shot
1981, the assassination attempt on President Reagan. Most notable for Lucy's glasses and Jiya's embrace of Big 80s Hair: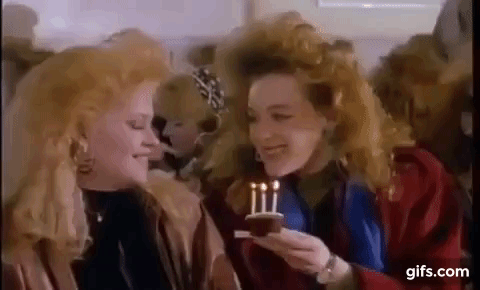 Episode 9: The General
1863, showing Harriet Tubman's work in actually fighting during the Civil War and leading a key slave rebellion. It was really great to see Tubman being a badass, and the fact that enslaved people fought for their freedom quite literally. The clothes, on the other hand… it's war, plus it's the early 1860s. Not a great combination.
Episode 10: Chinatown
Luckily, all is redeemed by the finale, which 1. shows a critical but frequently overlooked aspect of San Francisco/California history by setting the episode in the city's Chinatown, and 2. choosing 1888 as the year, so we can get all bustle-y and fabulous!
Cross your fingers and let's hope for that finale, whether the team ends up in the future or the past!