Did the world need a second Downton Abbey movie? Did I need to see it? These are, of course, rhetorical questions because the movie was made and I found myself wanting a low-key way to spend a day in London and the flick had just opened in theaters. Thus, I saw Downton Abbey: A New Era (2022) in spite of myself. And while it was mostly predictable and predictably pretty, I can confidently say it was better than the first movie if only because the still very lightweight plot wasn't as utterly pointless as that first movie. A whole bunch of the characters we know and love have Important Life Things happen to them by the end of this second movie, and it felt even more like a neat tidying-up of the entire Crawley and clan stories than even before. Not that this would keep a third movie from being churned out if and when someone decides they need the money.
I'd love to discuss the plot, such as it is, but that'd give away spoilers, and this flick is already so devoid of tension or suspense. The central "mystery" teased in the trailers isn't much of one, for example. But what I did like was the mirroring of how the movie opens and ends. And I felt that the complications encountered in the 'filming a movie at Downton Abbey' storyline were so obviously ripped off from Singin' in the Rain that I kept waiting for this: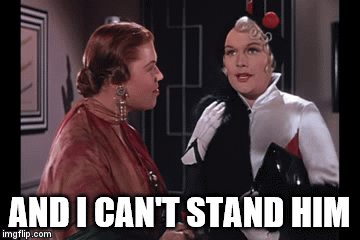 The time period is about a year after the first movie, so time is moving really slowly — which is annoying; the TV show was best in the early seasons when the movement of time was swifter and the characters had to adjust to the changing world. Now they seem weirdly calcified as ultra old-fashioned people living in a more modern world.
Thus, the costumes are still 1920s, just inching towards the end of that decade almost imperceptibly. Hilariously, the one thing that seems inaccurate is the movie-within-the-movie's costumes. The movie being filmed at the Abbey is set in the 1870s and while those costumes are glitzy and the wigs are kind of hilarious, the actual costumes look far too historically accurate for a 1920s "period" movie, at least any that I've seen! Still, it's enjoyable to see all this fancy garb in the big finale scene.
Costume design credits are shared by previous Downton designer Anna Robbins with Maja Meschede (Catherine the Great). Looks like Robbins is the only one doing press for the film, so I'm unclear how the design duties were split up.
Tom and Lucy get married, so we see a properly fancy wedding, and Anna Robbins describes the bride's gown in British Vogue:
"When it came to designing Lucy's wedding dress, I found a photograph in a '20s copy of Vogue that I nearly exactly recreated; it's streamlined through the hips and then layer upon layer of gathered silk tulle flows out around her. She's more down to earth than the other characters who have been married at Downton Abbey, so it felt important that she would be able to lift up her skirts and dance at the reception. Her veil, though, is more elaborate than any of the others. I sourced it through Jane Bourvis, and she wears it with a Bentley & Skinner tiara studded with diamonds and pearls."
Unlike some of the TV Downton weddings, we get enough time onscreen to enjoy this dress, so all this work pays off. But until the very end of the movie, there isn't much more in the way of formalwear. There's only one "dressed for dinner" scene with the family, and everything else is daywear, which shows subtle changes of time.
In Metro, Anna Robbins talked about how the different characters' wardrobes have evolved, such as:
"With Lady Mary, we wanted to reflect a softer side to her in this film, and we looked at that softness and pallet through fabrics, through textiles, and just creating something that felt slightly less angular and sharp which suits her and looks amazing but this is about finding a different side to her personality."
Fine, but I hate that pink-grey grampa sweater she's been wearing since the final season of the TV show. I said it then in our recaps, and I haven't changed my mind. Other looks Mary wore in this film were more appealing IMO.
Here's that one dinner scene:
The Dowager Countess has moved into the Abbey (or back in, given that she lived there long before the timeline of the show), and Maggie Smith gets her obligatory zingers in from closer range.
The 'movie-within-a-movie' plot brings most of the glamorous costumes, as worn by Myrna Dalgleish (Laura Haddock).
In British Vogue, Anna Robbins talked about the movie stars who come to Downton:
"Myrna is inspired by the likes of Clara Bow and Louise Brooks, but I also looked at Greta Garbo, Gloria Swanson and Lillian Gish's wardrobes when sourcing pieces for her. That means she wears a lot of sumptuous, expensive designs — fur stoles and Art-Deco jewellery. When she arrives at Downton Abbey, the camera pans her up and down, and you get to see these brilliant original shoes that I managed to find for her and have restored."
Meanwhile, the other half of the family heads off to the Riviera, first in smart travel coats and hats.
Then they change into lighter-weight outfits — except for Carson, which is a bit of a joke.
Being on holiday in France gives the Crawleys, et. al., a chance to dress down (y'know, as much as they ever would). Anna Robbins notes her influences for creating this part of their wardrobe in British Vogue:
"I studied a lot of photographs of Chanel in the South of France while designing the Crawleys' slightly more relaxed holiday wardrobes. Edith, in particular, embraces some of the more daring styles that were becoming popular; I found these beautiful cream-and-green trousers that she wears with a kimono and matching slippers."
And the young couples wear late '20s sportswear too, as Robbins continues:
"You see Edith and Bertie, Lucy and Tom playing doubles together, and I found original pieces in a rich cream shade for the girls to wear for the match — contrasting beautifully with the green of the villa lawn. Lucy accessorises hers with sunglasses and a headscarf, while Edith has these tiny ankle socks and prim leather heels. You also get to witness the first Downton Abbey character wearing a bathing suit: Tom goes swimming in the Med with Lucy in an all-in-one."
It's a cute scene, and Allen Leech delivers some vintage man-candy.
Is a second Downton movie in your future?