Support Frock Flicks with a small donation! During Snark Week and beyond, we're grateful for your monthly pledges for exclusive content via Patreon or your one-time contributions via Ko-fi or PayPal to offset the costs of running this site. You can even buy our T-shirts and merch. Think of this like supporting public broadcasting, but with swearing and no tax deductions!
Dickinson (2019-2021) is a series starring Hailee Steinfeld, who plays a young 20-something Emily Dickinson. The series ended recently after three seasons, and I haven't had a chance to watch them all, but I wanted to share my initial thoughts on what I have seen up to this point. I'll let you decide for yourself whether or not any of this sounds like a deal breaker for you. Cool?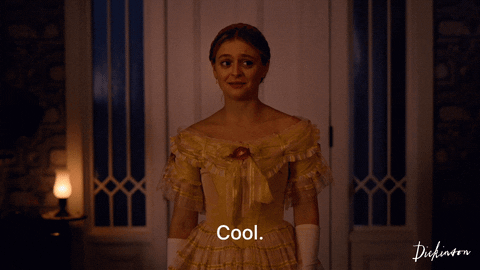 Right off the bat, the first thing you're going to notice is the modern, casual language infused with plenty of 21st-century slang. I understand that this can be jarring, perhaps even more so than it might otherwise be if the costumes weren't so dang good. Yes, there's a lot of Emily running around with her hair down in beachy waves, but the overall costuming of the show is pretty tight (in both the literal and figurative sense).

What is interesting is that it quickly became apparent to me that I was someone who was OK with modern language in a period flick so long as the costumes are good, rather than flawless period dialogue in a film with shit costuming, but I understand that people are going to be divided on that account. It did occasionally make me do an internal "wtf," particularly since the grown-ups in the show all talk more formally, and as you'd expect in a period piece.

The second thing that might challenge delicate sensibilities is that this show does not take the "Sappho and her friend" approach to Emily's relationship with her "best friend" (and soon-to-be sister-in-law) Susan Gilbert (played by Ella Hunt) [Editor's Note: Wild Nights With Emily, 2019, also trod this ground]. The young women are definitely in a sexual and romantic relationship, but you know, it's the middle of the 19th century, and the Dickinsons are comfortably established so the impoverished Susan is keen to secure her future with Emily's brother, Austin (Adrian Enscoe).

Meanwhile, Emily, herself, is being marketed to any eligible bachelor that cruises through town, and her resistance to marriage is complicating her relationship with her mother (played by Jane Krakowski, who seems to be performing the role as if Jenna Maroney from 30 Rock finally landed a starring role in a high profile period miniseries).

Challenging to her father is Emily's desire to pursue a "career" as a published author, and while he is shown to be tolerant, and even indulgent with his daughter's iconoclastic tendencies, publication is far too risky to his ambitions to run for the Massachusetts Senate. And then the Civil War happens…

The show uses Emily's famous white dress quite a bit to underscore just how much she stands out from the rest of her family and then wider world around her. A funeral scene in the first episode shows everyone in deep mourning, except Emily, with her hair down and in a white cotton frock — her only conceit to the occasion is a black lace shawl she's draped over her shoulders. More anachronisms are to come (Wiz Khalifa plays a rather charmingly casual Death, for instance, whom Emily fantasizes about being in a relationship with when her real world tedium becomes too much), but the costuming is only conceptual in so far as it places Emily as an outsider, as different from those around her, and in that regard, it is effective.

John Dunn, the costumer for Boardwalk Empire (2010-2014), lead the first season's designs, and was succeeded by Jennifer Moeller for seasons 2 and 3. Overall, I'd say I'm pretty cool with the costuming choices, while some may be a few years out of date either direction, they're not egregiously so. And everyone looks to be wearing proper foundation garments and all the correct layers, so we can at least give 10 points to the showrunner for not falling into the time honored trope of "independent spirited young woman rejects society's strictures by loudly proclaiming her refusal to wear a corset."

There were some misses, though:

And a bit of era blurring…

But overall, the costumes were above average. You just have to get over the modern slang,TikTok-style dance breaks, and a myriad of other verisimilitude jarring modern intrusions.
Can you hang with the modern slang in Dickinson?